A good conference strategy should include lead-generation ideas that can be implemented to drive business results. But what are good lead generation ideas, and what are the best ways to implement them to drive rapid business growth? Here are some tips that we've learned after attending dozens of industry conferences over the years, including:

Why conferences are great for lead generation
Sure, digital marketing works, but it also can get crowded and is easy to ignore. That message to check in on a buying decision? Delete! It's easy. It's way harder to ignore that friendly person in front of you at a conference. "Hi. How are you? I see you work at XYZ company. What do you do there?"
Target buyers attend conferences for business reasons, but the social aspect is undeniable. The potential for conversation is endless at conferences.
But, of course, the social connections also have a business purpose, which is why it's essential to go in with a strategy. Let's look at what that might entail.
Download now: The MRX conferences to attend this year!
Setting clear goals and objectives
A good conference strategy includes goals and objectives. I'm a fan of our having a mix of activity and output goals.
For example, activity goals include:
Talking to x number of people
Attending a certain number of sessions
Connecting with relevant speakers (even when it's on social media only because the line to speak with them after the session was a mile long)
It's also worth discussing expectations and workflows here, including:
How do we dress as a team? For example, everyone wearing the same colored pants and shirt can help the company stand out as a team to attendees.
When should everyone arrive, and what does the daily schedule look like?
Who does what? What can be divided and conquered?
How are leads collected for further follow-up? Is training necessary?
Output goals include:
Collect x number of contact details of target buyer leads
Updated understanding of what your target buyers are currently doing
Be memorable: standing out from the crowd
To set reasonable goals for a conference strategy and know what activities are most worthwhile, brainstorm ahead of the conference with others that have previously attended that conference. You might also pull in a fractional CMO like Jenn Mancusi that specializes in business growth through conferences.
Consider different strategies to stand out, for example:
Jenn once wore wings while flying into a conference. The wings had stats and slogans from the company she was working with. To say the least, the tactic kept her grounded while getting noticed and having many conversations.
Some people wear colorful outfits to stand out
An attendee at Content Marketing World, which has orange as one of its brand colors, wore an orange hat, took pictures with all the big names in attendance, and posted them to social media — a great way to get his company's name out there.
No matter what, though, it's essential to look at what has worked in the past, what emerging trends and strategies are, and then move forward with the best possible strategy for the next conference.
And consider talking to most everyone that wants to talk to you – even if they don't appear to be your target account. You never know who they might know or who they will tell about their interaction with you. Plus, it's the nice thing to do.
Read next: Master the Art of Event Leads to Boost Your Bottom Line
Understand who is going to the event
One of the essential steps to coming home with the right leads from conferences is to understand who is attending the conference. Who are the attendees, what roles do they hold, and who do they work for? It's also good to try to understand where they fit into an organization – when possible. Keep in mind that many companies now have buying committees, which consist of some or all of the following:
Budget owner
Decision maker
Influencer
Implementer
For some sponsorship levels, you might be able to get an attendee list, but even if you can't get that, consider asking or looking for a list of last year's attendees' companies and job titles.
Pre-conference outreach and appointment setting as part of your conference strategy
If you know precisely who is attending the conference, consider dropping them an email or LinkedIn message to see if they want to meet. Even if you don't have the complete attendee list, search social media to see who is talking about attending and then reach out to them. You can also consider reaching out to speakers from target companies.
If you have a booth, invite attendees to visit or make an appointment. Even if they do not make it to the booth, you can now easily follow up with them after the conference.
Before going, finalize the plan on collecting the contact and other contextual information for leads. Many conferences now have badges that allow you to hold them near an attendee's badge; if both of you push the buttons simultaneously, contact information is exchanged.
Contact information is just one piece of the puzzle. Leads are most useful when there's context to the conversation. For example, you scan people's badges and note no additional info about them; the follow-up will be the same for all and not personalized.
That can backfire and drive down conversions. After all, if somebody talked to you about product X and your first and second emails are about product Y, that will not engage them very well.
Read next: Stand out: Differentiation strategy in marketing to ramp up your revenue
At the conference: Lead generation event ideas
Several ideas can be implemented while at the conference, including:
At the booth
Booth design matters. Like with any good design, more can be less, but consider how you will engage at the booth with attendees.
Are you doing live demos?
Is it more of a conversation?
Do you invite people in to have a seat and offer them a coffee or snack
The options of what works are plenty. I've attended conferences where booths pulled off minimal designs and drew people in. Then I've been to conferences where booths were highly elaborate. Somewhere in the middle are the booths with close-to-private meeting pods for on-the-spot one-on-ones while blocking out the rest of the conference noise.
Running a giveaway at the booth. "Stop by to enter for a chance to win an Apple Watch" or something related to your product.
Talking about what draws people to a booth – and giveaways certainly can do that – but let's also ensure the messaging is clear. I've walked by way too many booths in my conference life and wondered: What does this company even do? And yes, there's a difference between being unclear and suspenseful. One makes buyers think. The other makes them want to know more.
Location and setup do matter in your conference strategy. Where is a good amount of foot traffic? But not just a herd of rushing attendees but attendees ready to engage in a conversation – even if it's a quick one. Positioning matters, too. Don't hide in the back of the booth; stand up front and greet people walking by. Be approachable and signal that you are open to chat.
Conference sponsorships
Event organizers want to make money, so sponsorships come in many different shapes now. Generally speaking, sponsorships are best in situations when people are paying attention. For example, this iced coffee stand with the super long line is presented by xyz company, which does abc. People are thankful for the coffee and are paying attention. On the other hand, I was looking at name tag sponsors and could barely read their names, plus I was staring at somebody's neck, which started to feel intrusive.
Conference sessions
Consider presenting an engaging and valuable session. That can be sponsored, or perhaps your talk was accepted in the speaker submission process.
And attend sessions that are of interest to you and your company.
"This may sound like a no-brainer, but introduce yourself to the people sitting next to you, especially in breakout sessions," said content marketing expert Carmen Hill. "You already have a common interest."
Some conferences – like IIEX – now have podcast stages, which gives you another way to engage with target buyers and get in front of attendees. Invite a target account with a story to tell on your branded podcast, and doing that on a podcast stage is an even more exciting opportunity.
Haven't launched your podcast, yet? Use this checklist to make it a success
Ongoing visibility as part of your conference strategy
Just walking the floor and being seen is a good tactic. This is where a unique outfit can help. Make this a social event, greet old acquaintances, make new ones, and see who offers a new service or product in the industry. Understanding all the different influences on our target buyer is always helpful.
Host a dinner or party
Consider hosting a dinner or other type of get-together for target accounts. Invite them to socialize, get to know you – the company rep – and build a connection. Another version of this could be a "Surprise announcement" or "Exclusive reveal" of a new product, hire, or another kind of launch this target audience might care about.
Social media during and after the event
Social media offers many opportunities, and I'm usually very active on the event hashtag on LinkedIn and Twitter during the event. And people do engage and mention these posts to me.
One way to connect with speakers or others that have shared valuable content could be a LinkedIn post that tags and highlights them.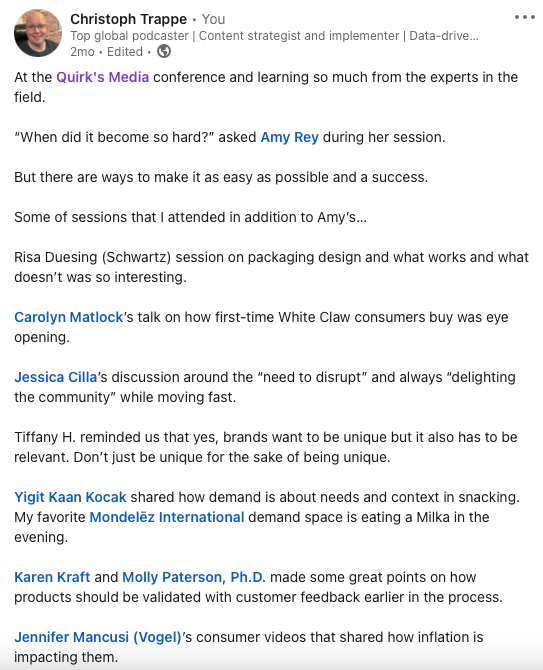 You can also consider running geo-fenced social media ads around the conference location to increase your brand awareness with attendees.
After the conference
It's easy to go home from a conference and feel good about conversations, the sessions, and the overall positive vibes. But the work doesn't stop here. A good conference strategy involves good follow-up at the proper interval and volume.
Create personalized follow-up based on the different stages and interests mentioned by potential buyers. Usually, these follow-up emails fall into a few buckets:
Email group 1 – the person you met
A sample email here might look like this:
Hello.
It was so great to meet you at xyz conference and hear about what you do at abc company. Now, that we are back, I would love to reconnect with you regarding <insert specific need they mentioned.>
Email group 2 – people you didn't meet but that attended
Hello.
I'm sorry we didn't meet at xyz conference, but I still want to take the opportunity with you to share <insert something that likely is of interest to them and is related to the conference. Maybe a product launch, trends you noticed, etc.>
Email group 3 – people who are likely customers but are not ready to buy today
Hello.
It was so great to meet you at xyz conference and hear about what you do at abc company. <insert a softer call to action to stay connected>
It might also be a good idea to connect with people on LinkedIn and stay connected that way. A simple message with your connection like the following could work:
It was great to meet you at the xyz conference. I would love to stay connected here if that's okay with you.
Don't be annoying with your follow-ups, but it's okay to send valuable content and thoughts and, every once in a while, check in to see if you can help with something.
When you follow up with an email consider following these steps:
1. Use a strong subject line. The subject line matters so does the pre-header text, so make sure it grabs their attention and entices them to open the email.
2. Keep the email short and to the point. No one wants to read a long email, so make sure your message is clear and concise.
3. Include a call to action. What do you want recipients to do after reading your email? Make it easy for them to take action by including a call-to-action, such as asking them a question that they might respond to.
4. Personalize the email. Add a personal touch by addressing recipients by name or including information that is relevant to them and their company specifically – similar to how you might design an account-based marketing campaign. 
5. Use images and videos. People are visual, so include images and videos in your email to capture attention when it makes sense.
6. Test, test, test. Before sending your email, test it out to see how it looks on different devices and email platforms. Then, track your results and analyze what worked and what didn't so you can make improvements for future emails.
7. Stay on a cadence. You might have to email them more than once. That's okay, but don't be obnoxious and always add value to the conversation with your email correspondence.
---
Event leads can become customers because the event and your connection with them at the event can be memorable and stands out. Then just make sure you stay in touch after the event has concluded.
Conference strategy done well can bring in the right leads and is another way to grow your business quickly. But to make it work, we need to be strategic and then be tactical sound with our implementation. Finally, remember that it's a team effort. Conference strategies are most successful when teams work together and that includes staff at the event and back in the home office.