The Content Marketing Institute released its new Salary Report this morning, and as part of that, it explores the role of AI in content marketing – an important topic to cover here for sure. We are joined by Lisa Murton Beets, research director at CMI, to hear what the report found.
We discuss:
How common is the use of AI in content marketing? 

What are the common ways content marketers use AI?

Are content marketers worried about AI taking over?



Altogether, the report found that 3 of 4 content marketers have used AI in their tasks and strategies. The most common tasks are brainstorming new topics and researching headlines and keywords. Thirty-six percent have used AI to write drafts.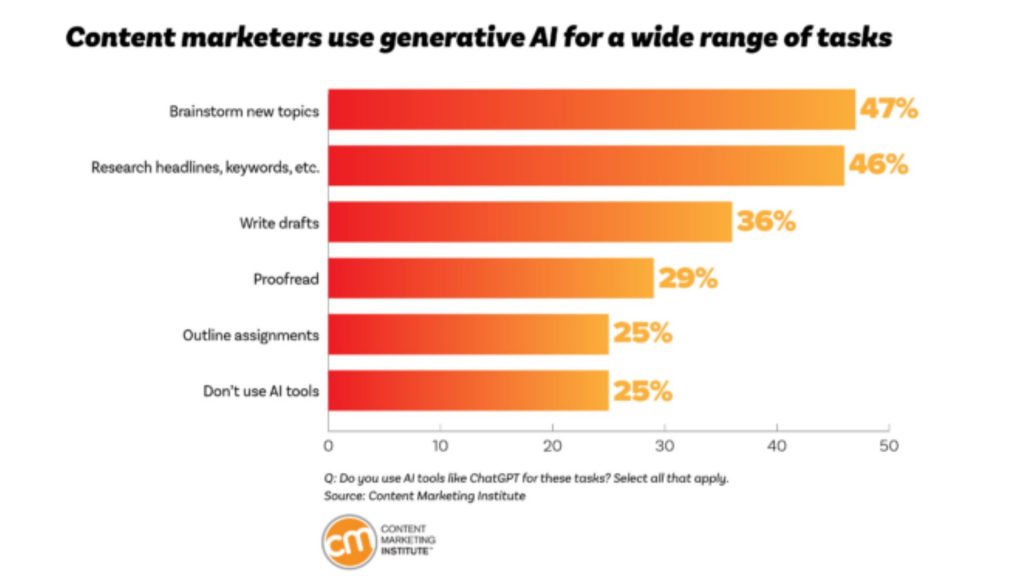 How we use AI in content marketing
At Growgetter, we use AI tools when it helps us create higher-performing content, but it still needs to be unique to the project. So as content marketing expert Jeff Bullas has said: "Don't use AI as a crutch but use it as a tool."
Typically, that means the technology is used in the brainstorming process:
Headline brainstorming and drafting
Ideas for article sections
And in the quality check stage of the process:
Grammar and usage checks
Overall quality checks – asking AI to review content. Be aware of privacy policies here.
Overall, there's a place for AI in content marketing, and it can make our content better and more relevant and improve workflows. Just don't use this new technology to add to the mountain of irrelevant and similar content out there. Use it to create content that is unique to you and your company and helps you differentiate.
Workshop: Sign up for customer journey mapping now